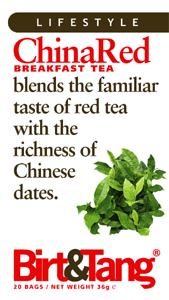 Green tea? Black tea? White tea? Whatever happened to the good old cuppa?
If you're confused by all the varieties of Chinese tea, you have our sympathies. But there's no need to feel lost!
The straightforward tea that you love is known in China as 'red tea' or 'black tea', a reference to the characteristic autumnal colours produced in the tea leaf by the process of roasting. (In case you were wondering, roasting increases shelf life, and hence is associated with the preparation of tea for export.)
The Chinese enjoy red tea as much as we do. In fact, we got the red tea enthusiasts at our factory to produce a special breakfast tea to our specification.
There's a twist, of course. China Birt&Tang ChinaRed Tea has added dates to give it a subtle fruit flavour. Novel, huh? Try it -- we think you might like it!
Ingredients: Black tea · Date