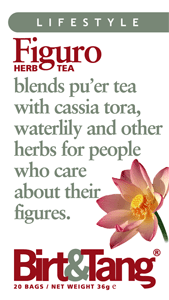 Obesity is much less common in China than in the West, but it is not unknown, even among a population whose diet is rich in vegetables and low on refined sugars.
TCM practitioners, seeking to understand the phenomenon of weight gain, described it in terms of the circulation of vital energy or qi. They prescribed herbs like black plum, clove and cinnamon in order to warm the stomach, stimulate digestion, and eliminate retained fluids and stagnant qi.
Birt&Tang's Figuro tea brings some of these traditional herbs together with hawthorn and cassia tora, used in TCM to promote circulation. And we also added pu'er tea, one of the richest natural sources of EGCG (epigallocatechin-3-gallate), a powerful flavonol antioxidant which may help to break down arterial plaque.
Ingredients: Pu'er tea · Apple · Cassia tora · Waterlily leaf · Orange peel · Hawthorn · Liquorice · Cinnamon · Cloves