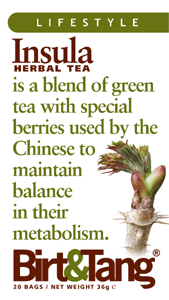 Diabetes, tied up with the metabolism of sugar, is generally understood to be a problem of the West. But Chinese medicine recognised a disease which it called 'thirst wasting syndrome' some 2,000 years ago. Sufferers grew lethargic and apathetic, suffered chronic thirst and lost control over their weight.
TCM practitioners generally associated the new syndrome with wealth, overindulgence and lack of exercise, but they developed a complex taxonomy of symptoms which also recognised the role of congenital weaknesses in the expression of symptoms.
More to the point, they evolved combinations of herbs like schisander berry, rehmannia and kudzu vine root which they used to help the body to reestablish proper balance in blood glucose levels and so return to normal function.
Many Chinese take these remedies regularly, feeling that they provide useful insurance against a debilitating disease. Birt&Tang's Insula tea combines many of these popular herbs.
Ingredients: Gojiberry · Aralia · Raspberry · Balsam pear · Kudzu vine root · Schisander · Buckwheat · Milk thistle · Green tea