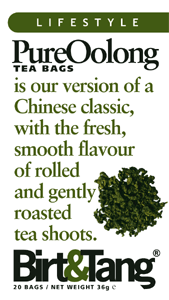 Oolong is one of the Chinese classics, produced by a subtle, largely hands-on process that puts it somewhere between the familiar western red or roasted cuppa and the Chinese lu cai or green tea.
It's both a good starting point for a westerner exploring the unfamiliar teas of China and a delightful drink in its own right.
Our version is strong but well-balanced, and particularly good after meals.
Ingredients: Oolong tea