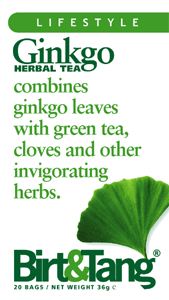 Ginkgo is the leaf of a very ancient tree species. More than 400 papers have been published in the West documenting its applications, and ginkgo extracts account for about 4% of all prescription medicine sales in France. When we researched the Western literature for this site, we were overwhelmed with information!
TCM practitioners view the herb more as a general tonic, especially for the lungs and circulation. Birt&Tang's tea follows their lead, combining the astringent taste of ginkgo with the stimulating effects of polygala, cloves and peppermint.
The result is a bracing drink which can be enjoyed by anyone, of any age.
Ingredients: Green tea · Ginkgo leaf · Apple · Polygala · Peppermint · Cloves · Liquorice