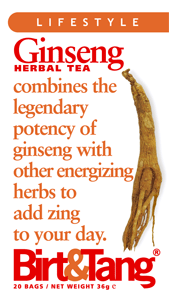 Ginseng is perhaps the best-known of all the herbs used in TCM. The plant's unique qualities were first identified in the mountains of Manchuria over 5,000 years ago. By AD300, steadily increasing demand had exhausted Chinese sources, and the Koreans began commercial cultivation for export. In the intervening centuries, worldwide ginseng use has continued to grow, and species with related qualities have been identified in Siberia and the USA, both being exploited commercially.
As the plant has spread around the world, the claims made for it have become more and more inflated. Birt&Tang's blend follows the approach of Shen Nong, the legendary founder of Chinese medicine, and his followers. (Shen-Nong viewed ginseng as a useful general stimulant and lung tonic, but proposed supporting its function with other herbs like epimedium and dangshen.)
We have, however, taken the lead given by modern Chinese herbalists in combining the true Chinese Panax ginseng with ginseng homologues from Siberia and the US.
Ingredients: Ginseng · Orange peel · Apple · Ginger · Fennel · Cloves