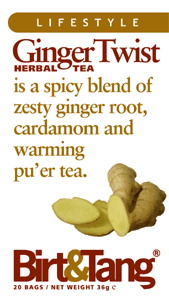 Ginger is one of our strongest sellers. Everyone appreciates a warming tea.
But some like it hot. For them we blended GingerTwist. We used the classic one-two combination of ginger and pu'er tea which powers our Ginger tea, but we added spicy cardamom to the mix. And we picked the youngest, punchiest ginger roots we could find.
Approach with caution...
Ingredients: Ginger · Oolong tea · Rosehip · Lemongrass · Cloves · Cardamom · Cinnamon