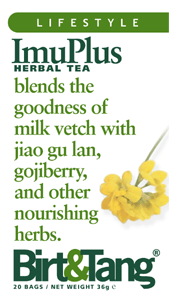 In the 'Book of Plain Questions', one of the earliest classics of Chinese medicine, Qi Bo advises the Yellow Emperor that 'in order to defend against diseases... one should always keep one's zheng qi abundant, and then the evils will not invade.'
Zheng qi translates literally as 'healthy energy', a form of internal energy characteristic of the immune system. Many Chinese take herbs with the specific object of boosting zheng qi. Popular choices include milk vetch root and epimedium.
You'll find both those useful ingredients in Birt&Tang's ImuPlus tea, along with a number of other nourishing and stimulating herbs.
Ingredients: Milkvetch · Jiaogulan · Apple · Coastal glehnia · Gojiberry · Orange peel · Ginger · Liquorice