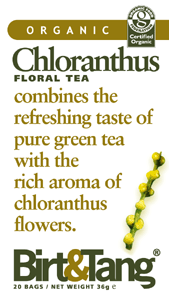 As you might expect from a company dedicated to the development of herbal products, we're extremely keen on organic foods. The Chinese have been doing organic production forever, but it was still a big deal to get our new organic range certified.
It wasn't easy, either. Since we source our ingredients from locations all over mainland China, we had to use two different certification bodies, IMO and the Organic Food Federation, to cover all the territory. But we think you'll agree that the results are worth it.
Birt&Tang's Organic range includes our pure Green Teas, our four flower teas (Chloranthus, Jasmine, Magnolia, Osmanthus), our white and oolong tea combos (WhitePeony, White tea + Peppermint, White tea + Blackcurrant, Oolong tea + Date, Oolong tea + Raspberry), and Peppermint.
Any questions? We'd love to hear from you.
info@birtandtang.com
PO Box 540, Orpington, Kent, BR6 OXN UK