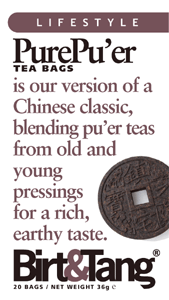 Pu'er tea is probably the most familiar of the Chinese teas. If you've seen those monolithic blocks of tea in restarants and the front windows of Chinese shops, you've seen pu'er.
Pu'er is made by partially fermenting and then pressing green tea. The bricks that result from this process were originally produced for transport, but Chinese tea drinkers quickly came to appreciate the smooth, warm taste of pu'er.
Today, mature pu'er teas are a sought-after commodity. Their traditional reputation as promoters of longevity has been partially confirmed in medical studies which seem to show improved antioxidant properties.
Birt&Tang's Pu'er tea is a blend of old and young pu'ers, and makes a fine introduction to a very special drink.
Ingredients: Pu'er tea