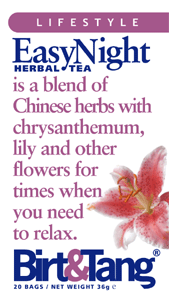 We all know that a cup of tea is a great way to unwind. But the Chinese specialise in flower blends, because they know how effective flowers are at altering mood. (Just imagine encountering the heady scent of honeysuckle on a summer evening, and you'll get the idea.) They reckon albizzia flower, or mimosa, to be make the most powerful of all flower teas, able to soothe and relax the most stubborn grouch.
Birt&Tang's Relaxing tea combines a healthy dose of mimosa with chrysanthemum, another favourite flower. And we've added other ingredients, herbs used in TCM to help prepare the body for the day to come.
We hope it works for you.
Ingredients: Albizzia · Chrysanthemum · Lily bulb · Turmeric · Yam · Ginseng · Rosehip · Peppermint · Wild jujuba seed · Liquorice