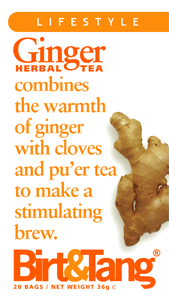 Ginger is among the simplest and most familiar of Chinese remedies. If you've ever used a really hot curry to drive out a cold, then you've tried a remedy which is familiar to millions of Chinese housewives--although the Chinese would rather make the fresh ginger into a tea than fry it!
Ginger, with its stimulating effects on the digestion and circulation, is the chief ingredient of Birt&Tang's winter tea. But we've also added the gentle stimulation of Chinese date, and a healthy dose of pu'er.
Pu'er tea is little-known in the west, and something of a rarity even in China. It is made by fermenting green tea and then storing it under carefully controlled conditions, a complex process which seems to enhance the tea's antioxidant properties. Several studies have linked the use of pu'er tea with reduced blood cholesterol levels. This may account for the association between pu'er and longevity which has long been made by Chinese connoisseurs.
Ingredients: Ginger · Pu'er tea · Date · Apple · Cloves