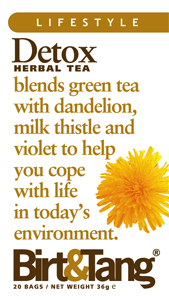 Detoxification--that is, expelling or removing from the body those substances which might harm it--has become a concern for health-conscious westerners.
The idea of detoxing is common to many forms of traditional medicine, including that of China.
Birt&Tang's Detox tea brings together a spectrum of herbs used in TCM, among them Chinese violet, fennel, ginger, dandelion and milk thistle.
Ingredients: Green tea · Violet · Dandelion · Milk thistle · Apple · Ginger · Cloves · Fennel · Liquorice