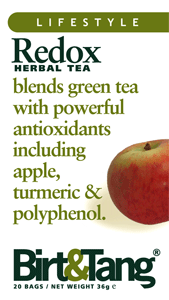 Many factors in the western lifestyle are harmful to our bodies. Among the worst offenders are those substances which affect the body through the release of unusual molecules called free radicals. A single free radical can ricochet around the body, damaging every cell with which it comes into contact.
Free radicals can be stopped by antioxidants. The best source of antioxidants is a diet rich in fresh fruit and vegetables, but particular herbs and chemicals--vitamins--can help, too. Many of the herbs used in TCM are powerful natural antioxidants.
Birt&Tang's Redox tea combines four of these remarkable herbs--green tea, hawthorn, notoginseng and danshen--with vitamin C and polyphenol.
Ingredients: Green tea · Apple · Turmeric · Lemongrass · Ginseng · Orange peel · Liquorice · Cinnamon