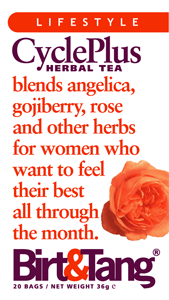 All over the world, women who otherwise enjoy excellent health resign themselves to a few days of discomfort each month. Others have sought help from Chinese medicine.
According to Canon of the Yellow Emperor, one of the classics of TCM, a healthy cycle requires both a strong circulation and a surplus of vital essence, or qi.
Birt&Tang's CyclePlus tea combines herbs like chuanxiong, motherwort and danshen (red sage root) associated in China with strong qi.
Ingredients: Angelica · Date · Gojiberry · Rose · Milkvetch · Ginseng · Orange peel · Liquorice