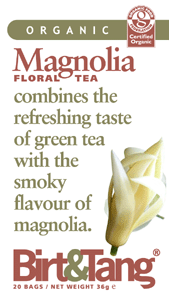 Magnolia tea made the news recently when some preliminary research published in the Journal of Biochemistry suggested that novel magnolia derivatives might be useful in fighting cancer.
The goldrush of health-conscious westerners will have come as a surprise in China, where people have quietly enjoyed the tea for five centuries. Magnolia tea is one of the group of six flower teas first blended during the Ming dynasty. The simple blending process involves layering fresh young green tea leaves with magnolia blossom, allowing the tea to steep in the aroma of the flowers. The Chinese find the resulting smoky, aromatic flavour both relaxing and refreshing.
Birt&Tang's Magnolia tea is certified organic.
Ingredients: Green tea · Magnolia flower