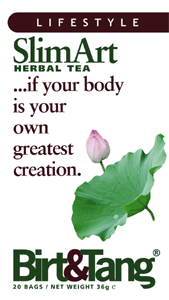 The Chinese are a slender race. Traditionally the Chinese diet has been short on red meat and saturated fats, and those factors are still important. But perhaps other factors are in play?
Chinese traditional medicine mentions the role played by the retention of qi or natural energy in the body. TCM practitioners have long advocated the use of herbs like cassia tora and waterlily to promote qi flow.
Now Birt&Tang's SlimArt tea brings these herbs together with pu'er tea.
Ingredients: Pu'er tea · Lemon · Lemongrass · Cassia tora · Waterlily leaf · Orange peel · Rosehip · Liquorice · Cinnamon · Cloves