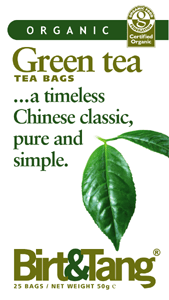 Tea is one of the oldest known herbs. It appears in some of China's earliest legends. Depending on which version you prefer, the drink was discovered when leaves from a tea bush fell into a cooking pot belonging either to the Yellow Emperor, mythical father of the country, or to Shen Nong, original herbalist and founder of agriculture.
Whether you believe the legend or not, there is no doubt that the Chinese have been drinking tea for a very long time. Records show that, at the time the Egyptians were working on the pyramids, the Chinese were already cultivating and exporting tea throughout the far and middle east.
Red tea, basis of the familiar Western cuppa, is made by roasting fresh leaves. This process increases shelf life and imparts a distinctive flavour at the expense of destroying some of the plant's active constituents.
Green tea is made simply by drying leaves at room temperature. Known as lu cai, this is the form preferred by most Chinese. If you want an everyday tonic that's loaded with antioxidant properties, you can't beat a plain cup of lu cai. Especially if it's 100% organic, like ours!
Birt&Tang's Green tea is certified organic.
Ingredients: Green tea