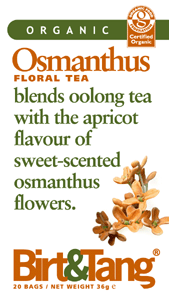 Osmanthus is one of the half-dozen flavoured teas which made their first appearance during the Ming dynasty, 500 years ago. The Ming enthusiasm for flowers is legendary, so it is unsurprising that the technique they developed for imbuing green tea with the flavours and aromas of their favourite blooms is still in use today.
Osmanthus is the sweetest of their flower teas, with an aroma that reminds some drinkers of apricots and a fruity, refreshing taste.
Birt&Tang's Osmanthus tea is certified organic.
Ingredients: Green tea · Osmanthus flowers